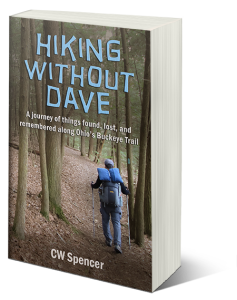 Hiking Without Dave is a true account of failure, grief, forgiveness, and healing. When CW Spencer lost his kid brother Dave to suicide, he was devastated. Threatened with unrelenting guilt, he finally made the decision to step out of the dark place in which he found himself and begin his journey of healing. It involved a hike of the entire 1,444 miles of the Buckeye Trail in Ohio over a three-and-a-half-year period, during which time he journaled his experiences and thoughts to Dave. In the book, his journal writings are cleverly intertwined with stories from CW's 47 years with his brother. Though Hiking Without Dave addresses the serious topic of suicide, the reader will find that it also contains many humorous stories and a message of hope.
Hiking Without Dave will appeal to not only hikers and people experiencing the effects of suicide, but also to anyone who enjoys reading inspiring stories of how everyday people deal with real life struggles.
Hiking Without Dave was released November 26, 2014.
Downloads
Some of the documents below are PDF files. Do you need Adobe Reader?

Reviews
This piece of work is very insightful into the lives of people whose loved ones have died of suicide. Researchers claim that "for every completed suicide six peoples' lives will be changed forever." Typically, these changes are extremely difficult to traverse. This work helps those who wish to support the victims of a loved one's suicide gain critical insight into the inner turmoil of these people.
—Dave Opalewski, President, Grief Recovery Inc.
Many people find solace and healing in nature. Life is full of sorrowful, painful and confusing moments, as well as happiness, comfort and clarity. Sometimes the hard parts of life are especially piercing and require a departure from daily routines.
CW Spencer, with the support of his loving wife Bonnie, made a lot of choices in dealing with the loss of his brother Dave. CW chose to hike Ohio's 1,400+ mile Buckeye Trail, not as an escape but as a purposeful departure from daily life, to find healing in connecting to nature on the trail. CW chose to open himself up to the sorrow and happiness, pain and comfort, confusion and clarity, and the company of other characters along his journey. CW's greatest choice is to share his heartfelt experience with all of us, with a sense of humor that lifts us up.
I have also hit the trail to deal with loss. Perhaps you have found solace in nature, and joy and humor in sharing that experience with others when you needed it. As the Executive Director of the Buckeye Trail Association, and a volunteer Trail Adopter, I am humbled to know that the trail helps to create personal experiences even deeper than a fun weekend backpacking. CW shares an important and entertaining story of a life full of sorrows and joys, each moment another step forward. The trail provided CW with an opportunity for deeper understanding and he's invited us along for the journey. I hope his story touches you and lifts you up when you need it.
—Andrew Bashaw, Executive Director, Buckeye Trail Association
CW creatively and successfully blends each event-filled journal entry with memories of his close, but sometimes turbulent, relationship with his deceased brother. The people he encountered and the events he experienced as he hiked segments of the Buckeye Trail trigger memories of time spent with his brother. I know after reading this insightful book, I will be looking for the "blue blaze" whenever I travel in Ohio. I will also be more observant of signs of severe depression in those around me.
CW's journey through the Buckeye Trail might be meant as a tribute to [Dave]. It is so much more. As a reader, I learned just enough about the Buckeye Trail. As a friend and former colleague, I gained an appreciation for the strength and determination of a man I've known for over 35 years. If I didn't already know [CW], I'd want to meet [him] after reading [Hiking Without Dave].
This book should be read by anyone dealing with the devastation of losing a loved one to suicide. Survivors can learn from CW's healing journey. You don't have to be a hiker to be inspired by this memoir.
—Debbie Yeager, English Program Consultant, 1999 Fellow of NKy Writing Project XIV