by guest blogger Bonnie Spencer
September 20, 2014
When my first-ever digital camera died recently, I went shopping for a replacement. I searched for a similar model because I didn't want to have to learn how to operate a different one. Eventually, I did find another low-end model that caters to the non-pro like me. Give me an Auto setting and one button to push and I'm happy. My PHD (Push Here Dummy) in photography serves me well. So how difficult could it be to shoot the cover photo for a book? I was about to find out.
CW began working on his book cover two years ago. He used a photo from his vast hiking collection taken with his simple, lightweight backpacking camera, and we thought it looked great. In fact, we were pretty happy with the entire cover. The design and colors looked good to us. Then my brother, Mike, tinkered with it and it got even better. We thought it was just waiting in the wings for the actual book to be completed at which time they would join each other to walk out onto the world's stage.
Fast forward to now. We are putting a lot of work into the book (which is why CW hasn't posted any blogs for a while), and it is getting closer to being ready. So, lately we began thinking about the cover again, and we made some decisions. We decided we would like a wraparound cover and would need a new photo. We decided we had more than enough to do already with all the other aspects of the book. We decided Mike was the one to take the cover off our hands. After all, he's a whiz at photography, he's great at design, and he already cleans up all the photos for the website. I wouldn't even know what kind of soap to use for that. Did I mention I'm not a real photographer?
Mike agreed, so we now had a cover designer. It gave me a great sense of relief. One less thing to deal with. Just send him a workable photo and he would do everything else that needed to be done. "Workable" was to be the operative word, though.
Mike kept playing with the cover and it kept getting better and better. He switched the photo to a new one we sent that we hoped would work for a wraparound. The mock-up looked perfect. At that point, we thought the cover was completed except for adding the back cover information.
Then I got The Text. The photo wrapped around nicely. Yes! The lighting was great. Yes! The scene was framed well. Yes! We have our cover. You just need to reshoot the photo. What?!
Turns out it wasn't sharp enough. He said I needed to get a tripod. I was feeling defeated. That picture was shot hours from our home deep in the woods. Did I say I don't know anything about photography? And I don't own a tripod, nor have I ever used one. I texted back, "Can I lean the camera on the top of a cane?" to which he replied, "Take some duct tape." (CW would like that idea.)
About then, Dad went into the other room, scrounged around in a closet, and returned with a tripod. It had belonged to Grandpa and had been stored away and long forgotten for decades. I felt a little better. At least I wouldn't have to hunt up the tape.
If Mike lived close by, I'd make him take the picture himself and save me a lot of headaches, but since he lives in Costa Rica we Skyped the next day. He was looking online at a manual for my camera to find how to switch to Program mode. He then attempted to talk me through the process. I discovered that when the right combination of buttons are punched, it opens up a plethora of hidden settings. I questioned why I need all of those settings. Doesn't that kind of negate the beauty of the simple camera for the photographically challenged? Dad was sitting off to the side listening to the conversation and laughing as I grew more exasperated.
Having successfully changed the mode, we went on to discuss weather conditions for the shoot. Naturally, I was going to watch for a bright, sunny day. "No," said Mike. "You don't want any shadows. You want clouds. Look for an overcast day."
"But that means rain."
"A little rain is OK."
"So now I have to carry a tripod and a rain poncho."
"Don't forget a poncho for the camera. You don't want the camera to get wet."
"Dad, do you have a camera poncho in the closet?"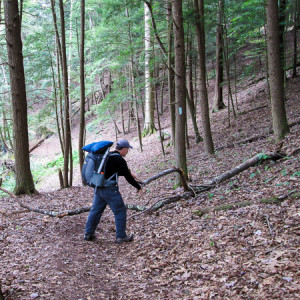 On the chosen day, we arose while it was still dark and drove two and a half hours in a thunderstorm. If the forecast was accurate and if we timed it correctly, we might get our shot. We found the trailhead. The air was misty as we trudged through the woods—CW with his backpack and hiking stick props and a large umbrella, me with the tripod and a copy of the original photo. CW thought it was a half mile to the spot. A mile and a half later, we located it. We managed to shoot eight photos before the rain came. Not having found a camera poncho in Dad's closet, we prepared to leave. The umbrella wasn't to be found. CW remembered leaning it against a tree well off the trail so it wouldn't be in the shot. He remembered correctly, but the tree was a half mile back.
I sent the photos to Mike. He soon gave us the bad news that they wouldn't work. I can't say that we were surprised. He told me some different settings to try in my backyard to force the camera to do what we want. When the tweaking was done to his satisfaction, he gave us the OK to return to the woods. He also gave strict instructions for the model to freeze and for me to use the self-timer (another hidden setting). This time, however, we didn't want a gray, impending-rain day, but a lightly overcast day with no harsh shadows. Seems my camera is noisy in very low light. I guess I'm deaf to camera talk; I'd never heard a peep from it.
We recently made the trip again, only two hours this time since we didn't have to batter our way through a storm. According to the forecast, it would be a mostly cloudy, mostly sunny day, depending on the timing. We got our shots at the original location plus lots of others. We looked like pros—clearing the trail to set up shots, positioning the tripod (though not so much when trying to plant it on a hill), waiting around for the light to change. The verdict is still out on whether or not the photos look professional. Mike hasn't gotten through all 57 of them yet.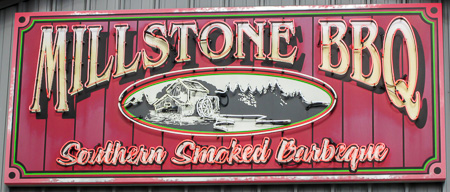 Regardless of the degree of photographic success, though, we had a fantastic day. It was beautiful weather for walking on the trails. While waiting on the perfect lighting, CW pulled a blanket and some snacks out of his backpack and we had a mini picnic. After our work was finished, we discovered what may be my new favorite restaurant (what a bummer that it's two hours away): Millstone BBQ in Logan, OH. They have the best ever sweet corn muffins with honey butter. The piglet pulled pork sandwich I got was no runt, but I managed to eat it all slathered with yummy sweet and tangy BBQ sauce. The squeeze bottle on our table probably needed to be refilled after we left. Our server, Jackie, was very attentive and provided us with friendly service. (She also helped ensure that I would get this blog posted since I told her I was writing it.)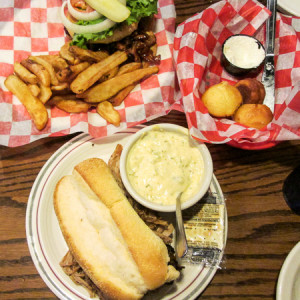 After venturing briefly into the shaky world of real photography, it was a comfort to be back on familiar ground. I didn't need a tripod or the self-timer to take a picture of our meal since I didn't see anything moving on the plates. No need to adjust the lamp; that food would have looked good in any light. Once again I was happily on Auto mode, using only my PHD photography skills.